I am a coffee drinking, fitness loving, fierce chick!
But for far too long, my fierceness was buried deep within. After struggling with this my entire adult life, in November 2015, I decided enough was enough. I embarked on a journey to get healthy that not only gave me the body I've always dreamed of, but completely transformed my entire life!
I was a high school honor student and cheerleader turned teen mom, turned accountant, turned lawyer. Now I've found my true calling, passion and authentic happiness in fitness and writing. I've now turned that into being an all around awesome certified nutrition & life coach, fitness blogger and empowerer of women!
For more information on working with me, click
here
!

I've been a single mom nearly my entire adult life. A low sense of self worth lead me to choose abusive men who most often were addicted to alcohol. I accepted treatment that now horrifies me. That all ended the day I decided to forget about trying to find a life partner and started repairing the most important relationship of my life – the one with myself.
My low self esteem not only was the reason I had a terrible man-picker, but it was the reason I gained and lost weight. I turned to food for comfort, to numb my feelings and drown out the negative tapes I had playing in my head.
In February 2004 I weighed 212 pounds. I was at one of the lowest points in my life. It wasn't until 2008 that I first discovered fitness and running. I lost weight, got to my goal weight, only to give up on myself and gain it back. I have repeated this cycle for the last 10 years. I've done the weight roller coaster between 180 and 130.
To say my journey has not been a straight line would be an understatement.
So in November 2015, I decided enough was enough and I started my ultimate transformation journey. To date I have lost more than 85 pounds since 2004. I've shed more than 35 pounds & 26 inches since November 2015. You can read about the first year of my journey in more detail
here
.
Today I am so far removed from the depressed and overweight girl I was in 2004, or even up to November 2015. I am authentically happy and finally believe that I am worthy of reaching all my goals!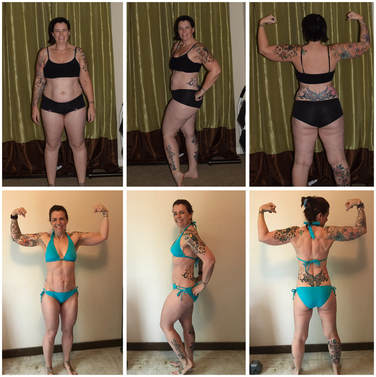 Top: November 2015
Bottom: May 2017

I love to write and am so honored you have taken some time out of your busy life to come to my site!